The Marcellus and Utica Shales extend across many states including Ohio, New York,
Pennsylvania, Maryland, and West Virginia.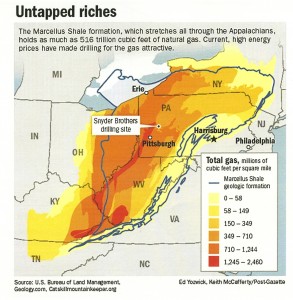 Located between 7,000 and 12,000 feet deep, they are important geologically because they hold large quantities of natural gas in the United States.
The Shales are purported to contain enough natural gas to satisfy the demands of the United States for fourteen years[1].  The shale itself is a fine grained sedimentary rock which is formed when quartz and clay minerals get compacted by the pressure of the Earth's surface.[2] Over the years, new drilling techniques have been developed that allow corporations to extract the gas at a greater retrieval rate.
The extraction process is a two step process in which the shale is penetrated thousands of feet horizontally and fractured hydraulically. Horizontal drilling considered less disturbing to the natural environment than the fracturing process.[3] The process involves drilling vertically to just above the shale, then the drill makes a 90 degree turn gradually and drills horizontally for up to 3000 feet.[4]  This means the well begins to curve gradually and results with a well which runs sideways, away from the surface location.[5]  A thick steel pipe is placed in the hole and sealed with cement on the outside of the pipe, a second string of steel pipe is run inside the first and more cement is added to provide a better seal.[6] Horizontal wells were originally used to intersect multiple natural fractures within the
rock which would be located in the horizontal section.[7]  In Shale drilling the shale can be fractured hydraulically, creating large spaces in which gas can be withdrawn. This
maximizes the amount of gas which can be captured.
The hydraulic fracturing process is achieved by injecting water, sand, and chemical
additives to the well at high pressures, which fractures the shale and enables  the extraction of the gas reserves.  Problematic to the process is the fact that it takes up to four million  gallons of fresh water to fracture a well. This water is taken from local  streams, reservoirs, lakes, and water plants near the drilling site.[8]  Fifteen to twenty percent of this water is forced back to the surface around  seven to ten days after it is injected.[9]  This water is known as "frac water" and it  contains iron, bacteria, suspended solids, and other contaminants.[10]  "Frac water" must be disposed in a solid waste landfill or reused in the  fracturing process, and is subject to the EPA's water quality certification
process.[11]
---